Recent Articles
Nov 10, 2017
World Kindness Day

Share what kindness means to you and create a ripple effect :) #worldkindnessday. The purpose of World Kindness Day is to highlight good deeds in the communities around the globe.
Nov 08, 2017
Why Kindness Is Needed In Our Schools And Workplaces

Most environments can benefit from leadership that cares and empowers others to do so as well.
Oct 12, 2017
Speaking to Youth

Sharing the benefits of core values and a personal vision
Kindness comes to Holy Family
Feb 16, 2013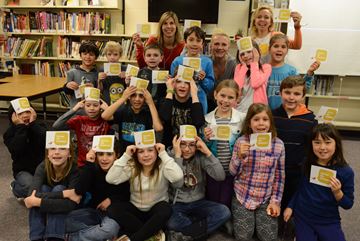 Teacher Anna Trojanowski's Grade 3/4 class took part in a kindness workshop led by Kindness Coaches Ivy Sims and Steffi Black at Holy Family Public School Tuesday.
The coaches ran an activity where students chose a classmate's name from a box, wrote some kind words about them and shared it with the class.
Kindness is a core value at the school and the workshop kicked off a month-long curriculum leading into the internationally-recognized Random Acts of Kindness Week, Feb. 10-16, 2013

Did You Like This Post?
Sign Up for Quarterly #spreadthekindness & Coaching Tips Newsletter
Empowering Updates for the Heart and Mind!